I was recently with a friend who said her husband excuses himself from the annual trimming of the family Christmas tree, abdicating all rights of involvement, leaving her and the kids wholly responsible. I responded with shock and awe, saying I had NO IDEA what that must be like.
In case my experience is a freak aberration in terms of husband involvement, I think it should be documented in case we could make it into the Guinness Book of World Records. (One of my kids is obsessed with getting in there and this may be her best shot). Also, perhaps there's someone who shares my pain and we can console one another.
Our family has just completed a nine-day-multi-step process to get our tree to visitor-ready status. Upon completion, Jon announced to the kids with much ceremony, "Now, don't touch the Christmas tree!" Knowing they'd never pass that test I immediately cordoned it off using velvet-covered ropes, the likes of which you'd see at a Hollywood red carpet event.
Brace yourself. You're entering the inner sanctum of the Livingston home at Christmas time.
Unlike other families who pay a tidy forty bucks for a tree from Costco–sight unseen and still strung up like a hot dog–we spend two months' wages plus the family cow on our tree each year. Have I mentioned Jon received his college degree in tree selection? (Or something really close to it).
Jon's college roommate says he had hundreds of tiny pieces of paper taped to the walls and ceiling surrounding his bed containing both the latin and common names of trees which he had to memorize to earn his degree. This former roommate and his wife talk to this day about the intensity with which he studied those trees. I guess I should've seen this coming…
Day 1 ~ Tree Selection
In keeping with tradition, all five of us go to the lot to select a tree although I can't say with any honesty we stay together. The kids–now accustomed to the duration of this make-or-break Step 1–quickly start their game of hide-and-seek while I dutifully accompany Jon in his careful inspection of the lot.
Note: I spy three trees that would do just fine. Out of two hundred that's not a big percentage but, what can I say? Sixteen years of marriage have taught me to raise the bar. I casually suggest a tree or two but they're rejected for being too green which may or may not indicate a tree is already in its period of glory and will not perform well for us in the long term. According to Jon, the tree should have a blueish tint to it.
(Never mind that the guy tending the lot renders this litmus test null and void. I'm no dummy. I keep my mouth shut and look for a blue tree).
After a pitiful attempt to find the perfect tree (my heart's just not in it), I busy myself with taking photos of the kids who've become sweaty after running around for a half hour in eighty-degree heat. They feel the need to play tug-of-war with a small human while I attempt to snap a cute photo.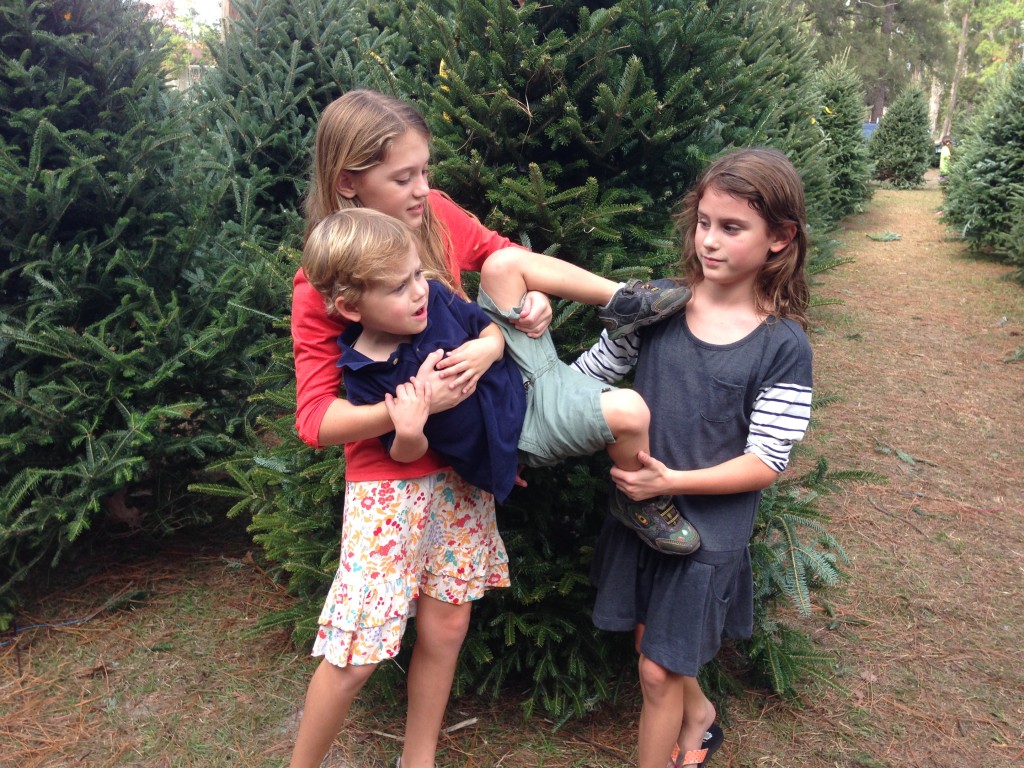 I vaguely hear Jon in the distance asking the attendant to pull out two trees so he can have a 360-degree view of them. I pretend to be a single parent and keep snapping photos.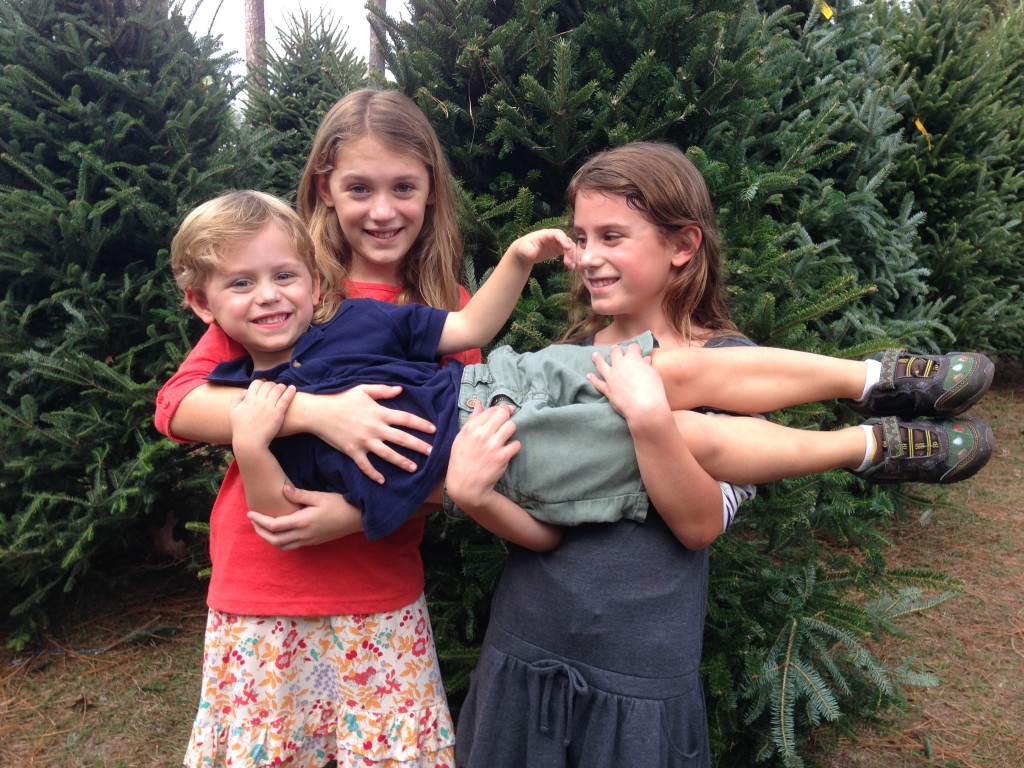 Rae, bored to tears by this point, decides practicing photography would be a good use of her time in captivity and starts taking artistic tree photos with my phone. She asks me to snap this one and I try not to worry that it looks like something Lady Gaga would do.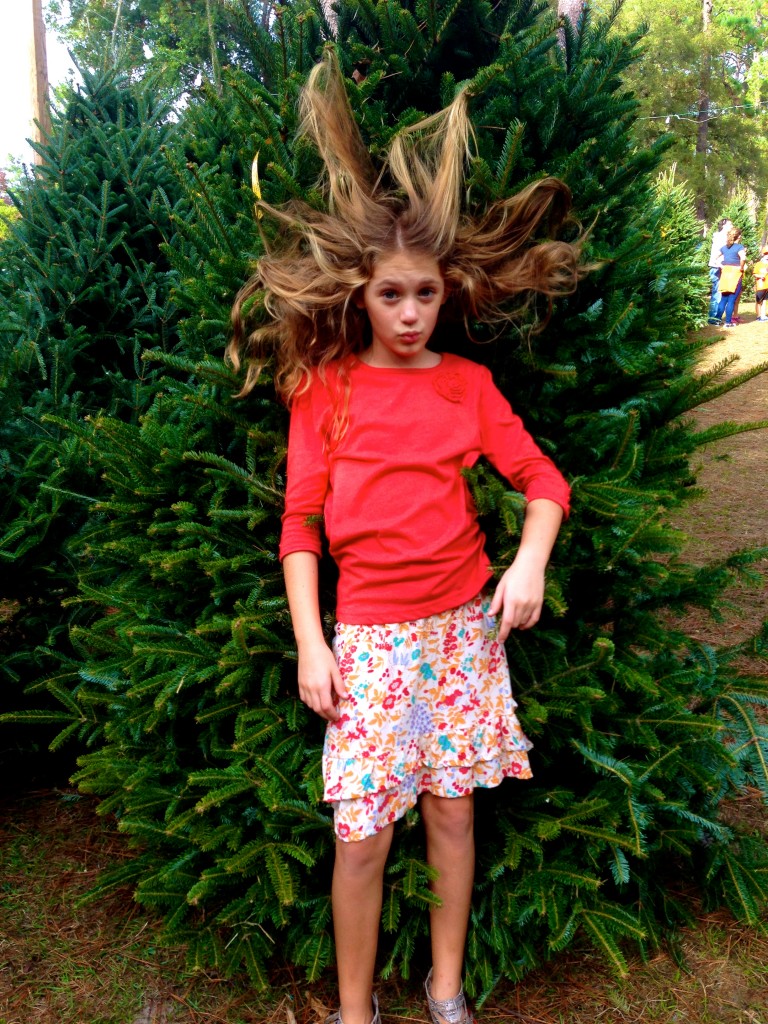 Meanwhile Jon passes on the art of tree selection to his first-born son.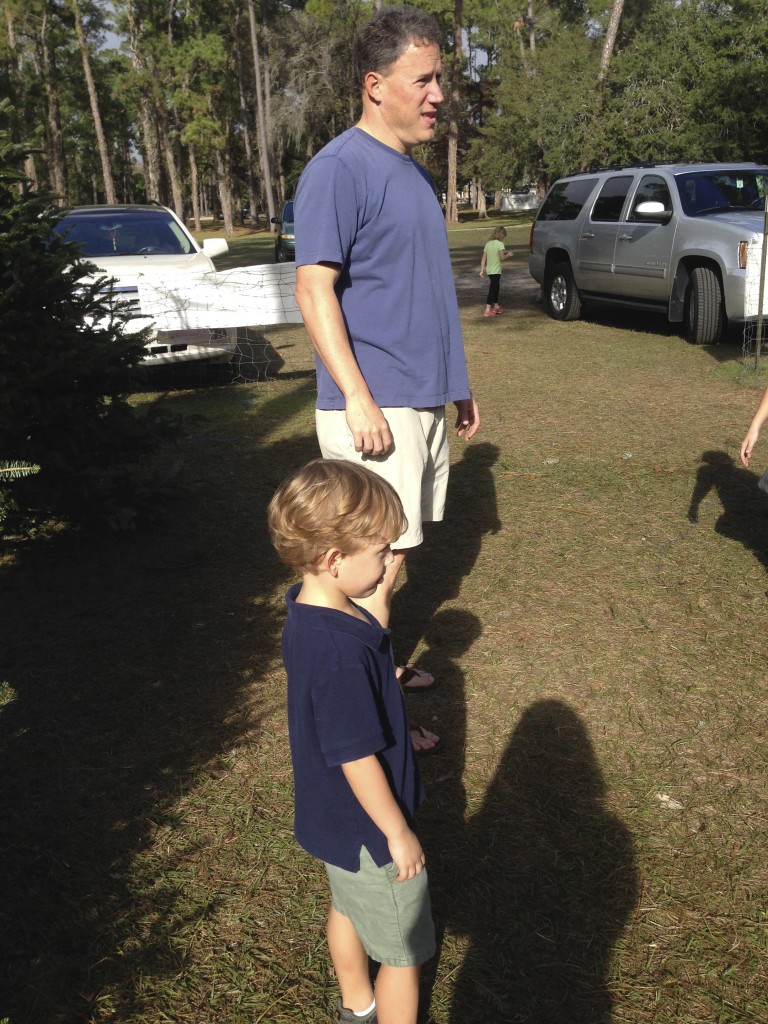 Ultimately, the final two candidates don't stand up under Jon's fierce scrutiny and we set off for Lot 2. I should mention here that we leave the premises with a stolen wreath which doesn't occur to me until we are long gone. When I return to pay for it a couple days later the lady in the booth doesn't see the humor in it and a fifth-grade friend tending the lot says, "Mrs. Livingston, I didn't know you were a ROBBER!"
His dad's a police officer. I'm glad I can rest easy knowing our city's in good hands.
We settle on a tree at Lot 2 but not before I'm busted. My vigorous picture-taking attracts a little too much attention and Jon suspects I'm documenting this for exploitation on my blog. The jig is up.
Wha-?? This material is WAY too good to pass up.
Day 1, evening ~ After the tree is erected, Jon curses the tree and says it's hideous. I bat my eyes pondering how spiritual my husband is that he chooses to literally follow Jesus' example when he cursed a fig tree.
Day 2 ~ Jon curses the tree and says it's the worse one we've ever had. I sigh loudly and say, "Are you gonna do this every day 'til Christmas?" He huffs off but that's the end of the cursing.
Day 3 ~ The SOTL
Jon is entirely responsible for the Stringing of the Lights. He uses a 100-light-per-square-foot-of-tree ratio and has developed a fool-proof method to ensure uniform coverage. He views the tree from the opposite wall through squinted eyes like this.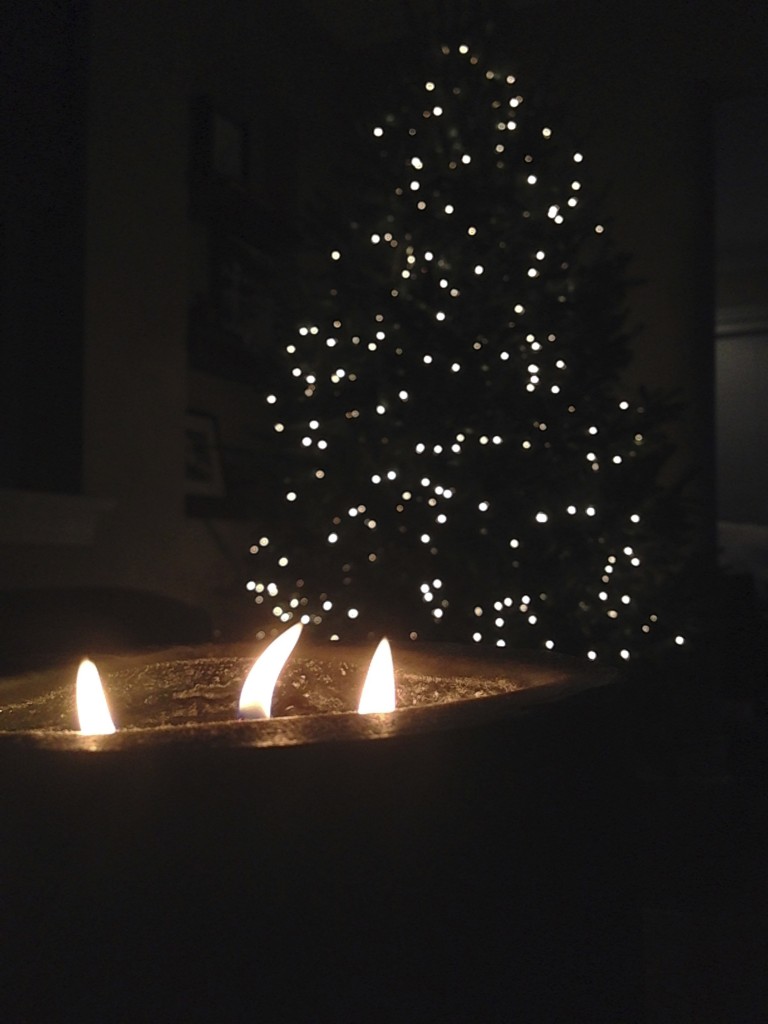 Hold the phones. Do you see what I see? LIGHT DEFICIT AT 3 0'CLOCK!!!!!!
Somehow in the pandemonium it goes undetected. This is a GAPING FLAW in the process that I can't believe has slipped by. I may have noticed except that I excuse myself from the SOTL every year in favor of wiping the kitchen counter with a damp sponge.
Wax on. Wax off. BREEEEEEEEEEATHE.
Mid-way through the SOTL Jon casually throws out, "What do you think of putting snow on the tree this year?" I throw up in my mouth a little just thinking of all the steps this will add to an already-laborious process but try to appear cool, calm and collected on the outside. Meanwhile my inner child crawls into a fetal position and rocks herself gently back and forth. You can do this, she says. You can do this.
Day 4 ~ Operation Snow
The neighbor (Jon's muse) is interviewed about the process she uses and pictures are texted to my phone. I'm sent to purchase both COARSE and FINE snow.
Jon applies tiny clumps of batten to 800 branches while I sip wine in the corner and think about how cute he looks in his glasses. This is my own version of a make-or-break contribution that I believe is CRITICAL to this process.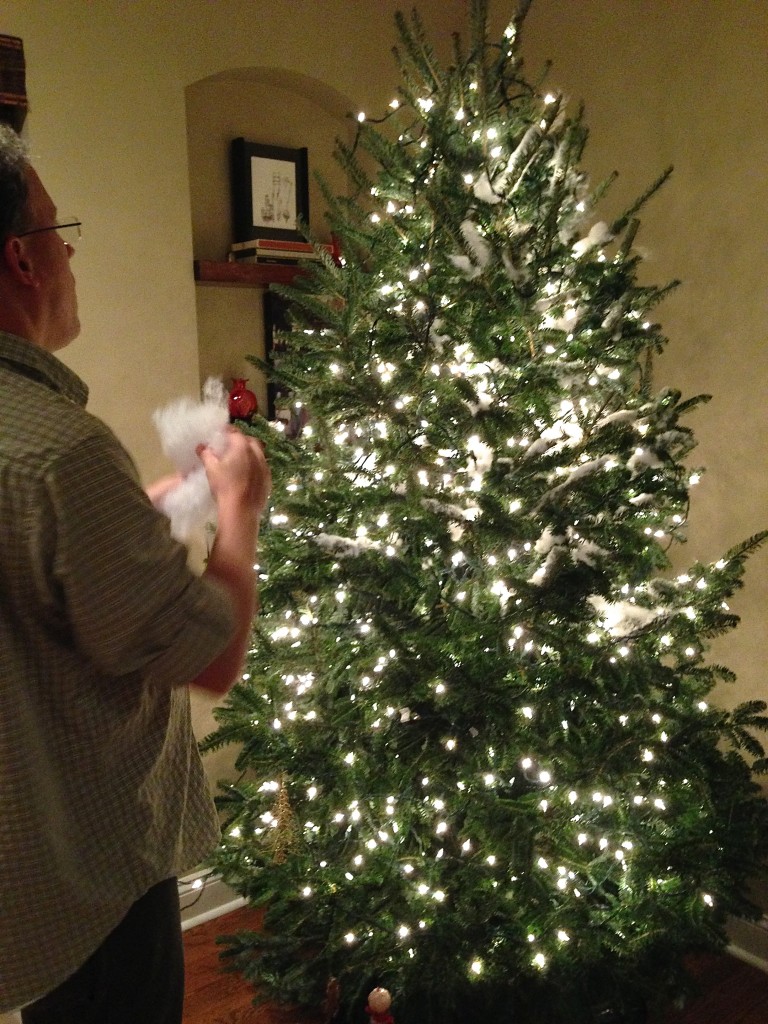 Day 5 ~ Balanced Ornaments
Showtime! We play Christmas carols and begin hanging the ornaments as a family. About ten minutes in, Jon says he's sorry but has to leave for Bible Study. I mean really. Where are his priorities?
He leans in for a goodbye kiss and the caged animal look in my eyes tells him Please don't leave me alone with three kids and dozens of breakable ornaments! He ignores my silent pleas adding "Make sure they don't clump the ornaments all in one spot. Make it look balanced."
Balanced? No problem. I've got this. I've been trained by a pro and overseeing ornament balancing for eleven years. I also take this unique opportunity (he's never previously been absent for any phase involving the tree) to add, "My eye is not quite like yours so I can't guarantee the results."
He seems light-hearted. This bible study thing really works.
He exits the building and this is where things begin to get squirrelly. I have no photos to document the ornament hanging, only a few choice quotes in no particular order:
Me: "Okay people. I've set the timer. We've got 15 minutes to get this done. GO!"
Me: "Throw that one away." Kids: "But Daddy MADE this when he was a kid." Me: "I don't care. THROW IT AWAY!"
"New rule: NO YELLING!!!!!"
And my personal favorite: "Mommy, when is God gonna kill Satan?"
Man, I love this kid.
Day 6 ~ The Audit
The tree comes to a standstill while we move on with our lives. Have I mentioned I used to make a living as an auditor? I make minor ornament adjustments when passing through the room.
Day 7 ~ Florida's Version of Sledding
We've made it to the home stretch and I'm seeing the light at the end of the tunnel.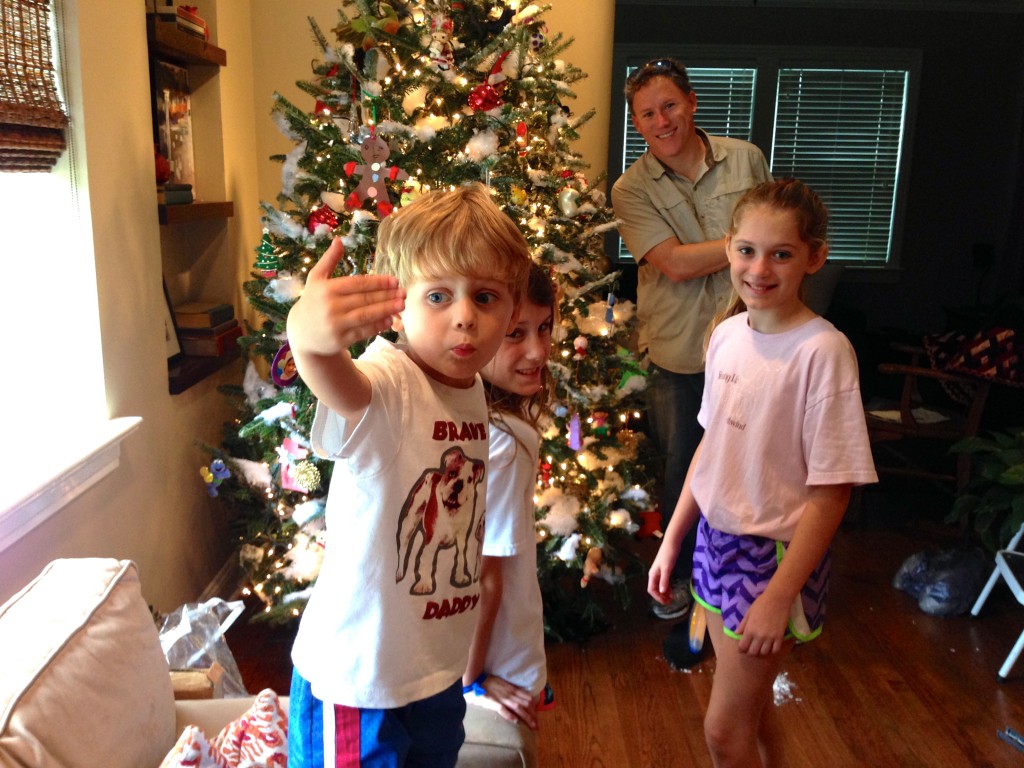 After COARSE snow is applied it's time for the finishing touch: FINE snow. The air is thick with anticipation.
One-Two-Three…
GO!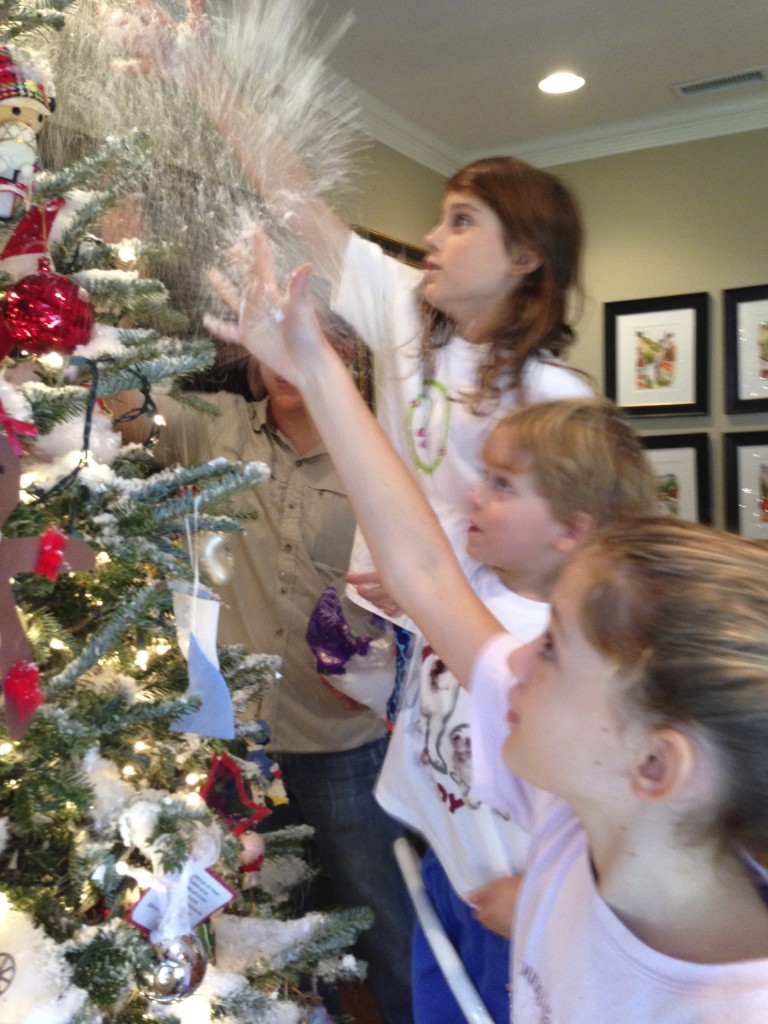 Florida snow. This'll have to do instead of sledding.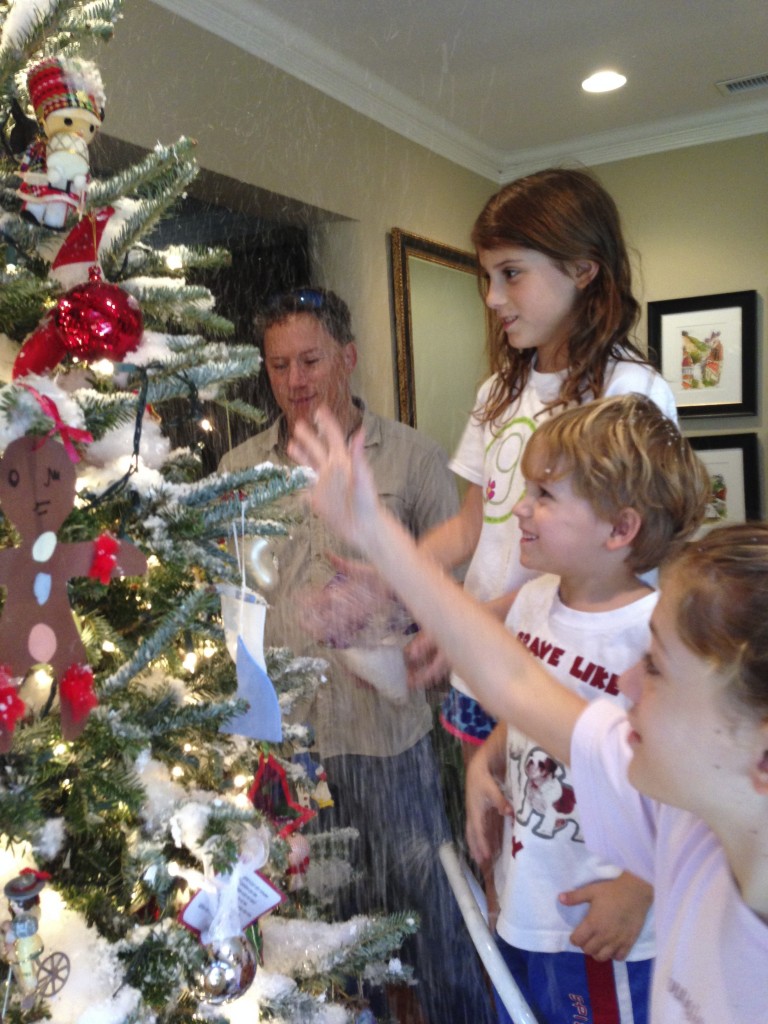 We inspect our handiwork and call it a day. I mean week.
Days 8 & 9 and continuing ~ This snow is like beach sand ending up in every crack and crevice–hence the "Kids don't touch the tree!"–so I'm spending the remaining days 'til Christmas on watch detail because I really don't have enough to do as it is.
Without further ado, I present to you The Livingston Family Tree. A Christmas masterpiece…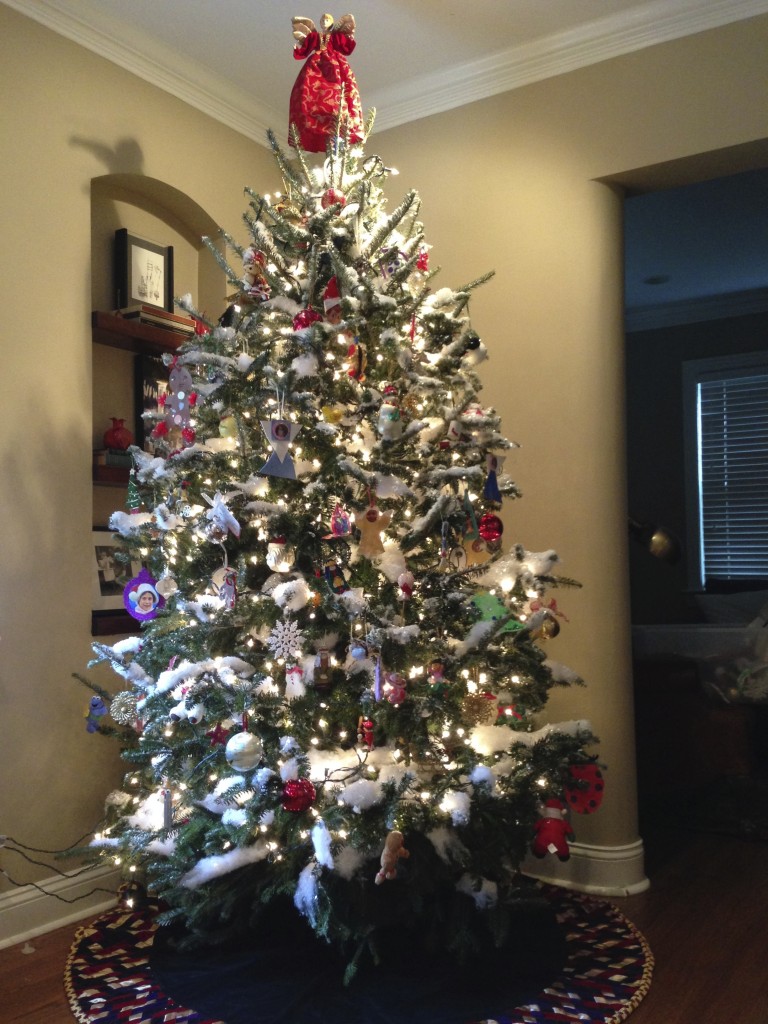 The pictures really don't do it justice. It looks even more SPECTACULAR in person. Friends and neighbors: we're open for visitors but ask that you wear soft-soled shoes so as not to disturb the "snow" that falls at the slightest provocation. Also I can't promise anything except the tree. Who has time for baking when you're still recuperating from a marathon?
When all is said and done I'm thankful for my choosey husband because it meant he bypassed some pretty good-looking frogs before he chose me. And for that I'm forever blessed and grateful for the family we are building.
From all of us to you, Merry Christmas from the Livingstons! We've been a little busy so this'll have to do for a Christmas card.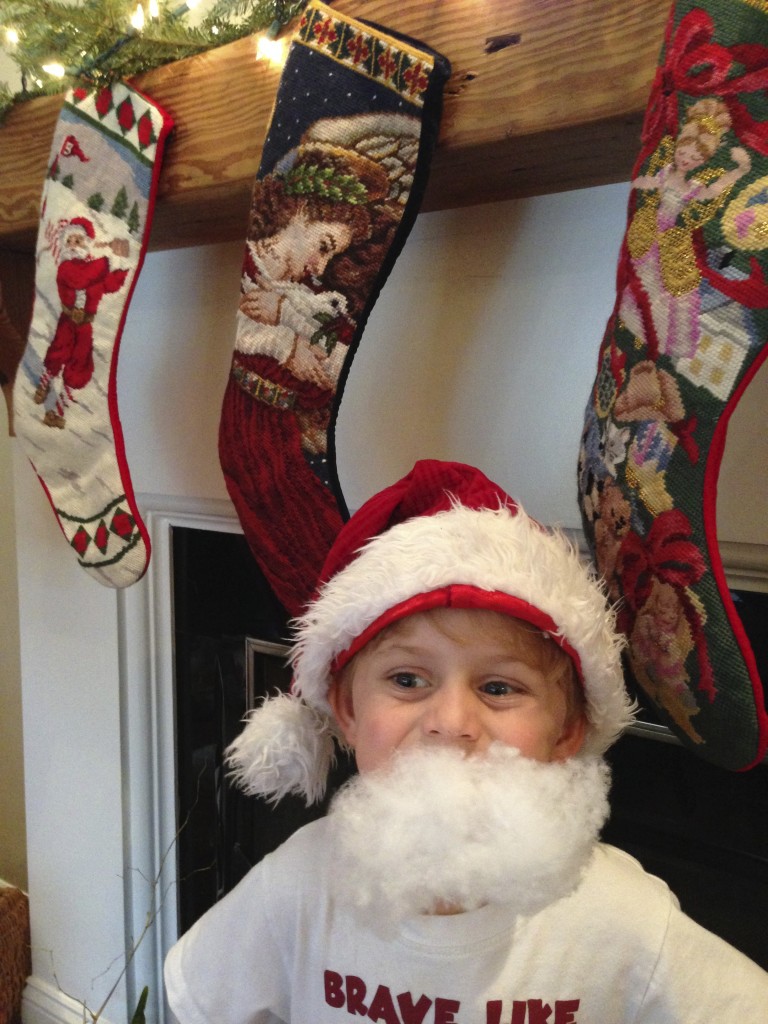 And Honey, I admit this was written mostly at your expense. Consider this your invitation to speak up about any of the many scenarios in which I don't come off looking so great: homework time, any time the family must be dressed in clothes other than T-shirts and flip flops, or that certain time of month. Take your pick. I love you :)
If you enjoy reading here would you kindly share using one of the easy options below? Also, you can like The Right Volume on Facebook where I share daily-ish tidbits. 
Stay Updated Via Email