I'm currently doing the Daniel Fast and how I got to this point on my journey is still a little fuzzy. Something to do with a late-night church meeting and Jon mentioning afterward, in what I would call a very cavalier manner, that he would be starting a fast the next day.
Um, hello! Groceries?! Evidently spiritual undertakings don't take practical details into consideration and never mind that he may as well have dropped a bomb on our pantry.
But back to me and my own fast.
To put this into context, I am not a faster. On any given day I am the person who eats a bacon cheeseburger across the table from someone who is fasting. I kind of exempt myself from this particular spiritual discipline because Number One: I am very grumpy when I'm not well fed. (Haven't we covered that?) And Number Two: What else is there? We can't have a mamma trolling around the house, yelling at her kids every time they spill milk or leave a wet towel on the floor, now can we?
Actually, I may do that even whilst well-fed.
But somewhere between Jon's little announcement and my mind revving up to calculate the additional time it would take me to prepare enough food from an incredibly restrictive list for us to not be overly irritable, I sat down to take a deep breath of the Lord and He whispered, "What if this is less about guilt and more about possibility?"
Hmmm. He may've hooked me there.
And for those who, like the former me, do not know what the Daniel Fast is–much less hadn't scoured the internet to find something that supposedly resembles a brownie (It's not. Don't believe her claims of 'fudge' for one second.)–the main thing is that it originated with the Daniel of Lions' Den fame and involves forgoing meat, dairy, and sugar.
So imagine pouring the contents of your life into a nice tall glass, inserting a straw, and sucking out all the pleasure and enjoyment from within. What you have left is the Daniel Fast.
Also, did I mention no alcohol?
I'm currently on Day 12, a little more than half-way through, and some interesting things have already surfaced. WOW, I depend on sugar. Here's my pre-fast behavior: Feeling a bit tired? Have a nip of chocolate! Kids won't stop arguing? Take the edge off with some Twizzlers!
And don't get me started on how many afternoons I've thought it would be nice to sip a glass of red while throwing dinner in the pan, then–one foot at the ready and pointed toward the rack in the pantry–the cold, harsh reality sets in that, even though it's technically made from grapes, I can't have them if they've been fermented. Details.
(It's pretty sad when the only thing you have to look forward to at five o' clock in the afternoon is tomorrow's morning's cup of coffee. Stirred, not shaken, with a mixer of almond milk.)
My crutches have been exposed.
One thing that's helped is doing it within a community. When my dear friend Jamie texts a picture from her stovetop with a link to the recipe and I discover, much to my amazement, I have all the ingredients and am able to text back this snapshot of my own pan, it feels good.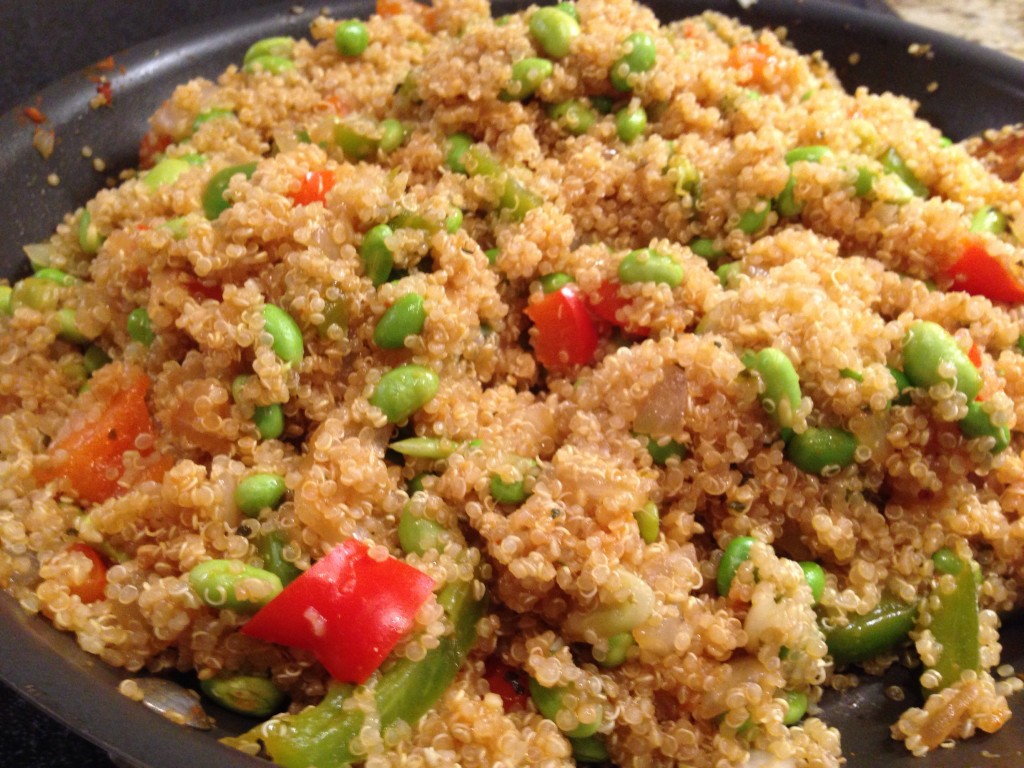 I am not alone. That helps to take the edge off. Something I evidently normally rely on alcoholic beverages and copious amounts of sugar to do. And that's probably not ideal.
I haven't been letting the Lord fill in those needy, desperate spaces. I'm quick to turn to the quick fix.
The Psalmist says, Better is one day in your house than a thousand elsewhere… and, although being in a Nestle factory with unlimited free samples sounds really good right about now, the truth is: His presence is enough and I just need to allow Him to be enough. I need to stop filling in the margins with junk and come to Him raw and exposed.
And, for the astute among you: Yes, coffee's technically not allowed. But thank heavens our pastor takes the position that the coffee bean falls into the 'legume category' and since coffee = water + legume, "Church: We're havin' it!"
Pastor Joby, believe me when I say my husband thanks you, my children thank you but, mostly, my bowels thank you.
…
The Daniel Fast was so inspiring I wrote The Daniel Fast: Part Deux which may or may not test your levels of comfort to the outermost extremes in discussing flatulence via the internet.
Follow me on Twitter (where I never post stuff) or Facebook (where I sometimes post stuff) or–and this is the best!–subscribe by email at that button down there. 
Stay Updated Via Email