Y'all. I've just finished a book that reads like late night TV, were it a book, except without the profanity and frequent jabs at people. So I guess it's not like late-night TV at all but the point is: it's hilarious and won't make you feel guilty for laughing.
The Antelope in the Living Room, by Melanie Shankle, is a memoir on marriage: The Real Story of Two People Sharing One Life.
I started it one night when our eleven-year old was sleeping in Jon's and my bedroom because her own bed had been commandeered by her sister to make room for a sleepover. We both crawled into bed with our respective books–her on a floor pallet and me in the "big bed"–and, after a few minutes, I was laughing and carrying on so much she had to relocate to find some peace and quiet.
From the first page it felt like Shankle had sidled up beside me to share stories while I sipped wine and tried to balance my glass for fear of falling in stitches to the ground. This is a girl's girl who paints her own "back house," takes road trips each summer with Best Friend Gulley and their kids, and thinks the most romantic thing about her day is when her husband says he's willing to eat leftovers for dinner. (Can I get an "Amen"?)
In one of my favorite parts she shares a list she composed (while single) of the qualities she wanted in a husband: "…no jean shorts was number four on the list along with number six, must know how to dance. And number eight, he cannot have a mustache. (So I essentially ruled out being married to Kid Rock.)"
Needless to say, it was dubbed The Laughing Book by our daughter because of my raucous behavior every time she caught me reading it.
Antelope showcases how a woman who loves to shop for mucho Mossimo at Target and a man with a die-hard commitment to savage gear of any kind can coexist and discover surprising beauty in their differences and the comfort offered by "just two people deeply committed to the same thing."
It's not all rainbows and unicorns, though. Marriage is tough. What I appreciate most about this book is that it helped me take a step back and see the bigger picture. It's a like a foghorn shouting "Lighten up!"–only much kinder and less obnoxious–as story after story unfolds to display the humor and wonder present in the everyday struggles and triumphs of marriage. If only we would look…
Don't even get me started on the time her husband Perry, a former youth pastor, read scripture in a friend's wedding while (accidentally) OD'd on pain meds. The assigned passage was a MAJOR tongue twister and you'll just have to read the book yourself to see how that played out. Let's just say it's not straight from the pages of Brides magazine.
If you're married or have ever thought about getting married, this book's for you.*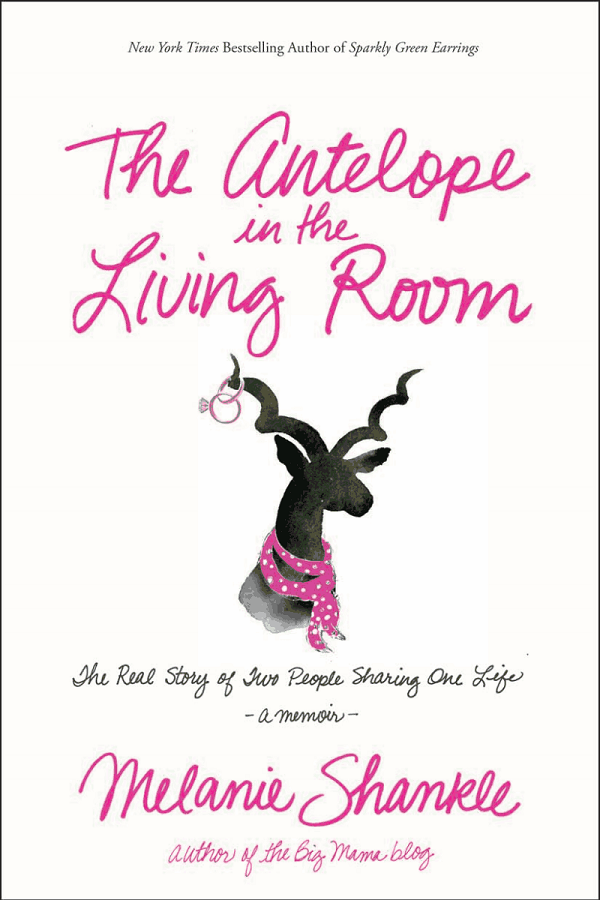 Shankle writes daily over at her blog, Big Mama, and her first book, Sparkly Green Earrings (released in 2013), debuted on the New York Times Bestseller list. Her second book, The Antelope in the Living Room, was released on February 4, 2014 and also hit the New York Times list.
*And–oh–I'm not being paid a dime for this endorsement. (Unfortunately). Although I certainly wouldn't turn away bags of cash money were they delivered to my doorstep. That's an unlikely scenario, though, because Shankle gave up her former career to–according to her–"become a professional writer and make pennies a day" so a dime would be, like, an entire week's earnings and, honestly, this post probably isn't worth that much.
Stay Updated Via Email